Amy Siskind
Amy Siskind is the President and Co-Founder of The New Agenda, an organization dedicated to improving the lives of women and girls.
This is simply appalling! For any women still thinking that the Democratic Party is the party of women, read on…
Politico is reporting that in Hawaii's special-election scheduled for May 22, the DCCC is actively trying to defeat a Democratic woman running for an open congressional seat – State Senator Colleen Hanabusa!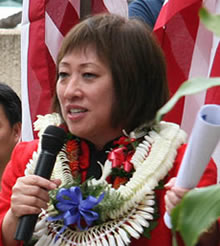 It's fact that only16.8% of our congressional seats are held by women – an abysmal figure to begin with. And chances are high that this number will go down in November 2010 since many incumbent women running are Democrats who are now especially at risk thanks to the passage of health care reform. So the DSCC trying to take out a woman candidate seems, well….odd.
It gets worse – not only is Sen Hanabusa a Democrat and a woman – she is also:
The first woman to preside over the State Senate of Hawaii;
And…
The first Asian American woman to preside over a state legislative chamber in the entire United States!!!
But, the DCCC wants to take her down and get behind Rep. Ed Case – you guessed it, a white male – we apparently don't have enough of those in Congress! The good news, Ed's got a spiffy slogan: "A Better Way Forward." "Better" because he won't be like those pesky women in congress that gave President Obama and Speaker Pelosi a tough time on health care reform!