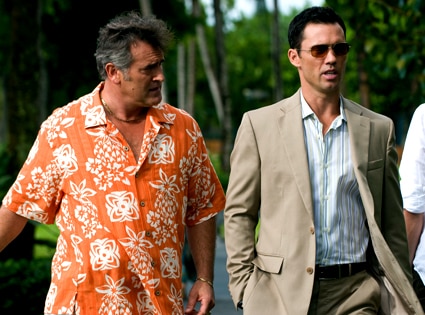 TV's coolest veterans, Michael Westen (former Army Ranger and unjustly disgraced covert operative) and Sam Axe (retired Navy SEAL) return this Veterans Day to the USA Network, just when their country needs them to rescue a bland Fall season.
I've always had a problem with spy stories where the U.S. government is trying to kill someone merely based on suspicion they may leak information, or want to retire but "know too much."
If that were anything close to real life, CIA turncoat Philip Agee wouldn't have lived to be a leftist celebrity, and Wikileaks honcho  Julian Assange would– at least– be languishing at Gitmo.  (Both of which would be fine with me.)
When I heard the premise of USA Network's Burn Notice, I was expecting a story about a spy with a cloud over his head dodging CIA assassins.  Happily, that is not the case.
In fact, despite his compromised– AKA "burned"—status, former Cold War and War on Terror U.S. intelligence covert operative extraordinaire Michael Westen (a very charismatic Jeffrey Donovan) remains a committed patriot who, even while he helps Miami citizens in distress on a free lance basis, will drop everything to risk his life to take on his nation's enemies.
Despite its cool attitude (think The Equalizer meets Miami Vice) the patriotic heart at the core of Burn Notice is never far from the surface.
In fact, when challenged by his girlfriend Fiona, (Gabrielle Anwar) a gun-running former IRA member, as to why he wants to clear his name and resume his former career, Weston explains that it's not because he's an adrenaline junkie, but because saving American lives and protecting American security is what he is meant to do.
Burn Notice boasts one of the most enjoyable casts on television.  Donovan is perfect for his role, cool and athletic with just enough heart—which also applies to Anwar.   Rounding out the cast is the great Bruce Campbell as a former Navy SEAL, now enjoying his retirement (a little too much) but looking after Michael and taking on new missions with gusto.  As Michael's chain-smoking mother, Sharon Gless gives an absolutely must see performance.
Burn Notice is kind of retro—like most of USA's thriller lineup going back to Monk.  You could easily see any of these shows being in NBC's old Sunday Mystery Movie lineup between McCloud and Columbo.  (In fact, since the plots are little self-contained action movies with a fair amount of complications, the longer form would have been nice.)
Burn Notice's one nod to the dramatic expansiveness of modern TV is the backstory of his quest to prove his innocence.  But then again, you could say the same about The Fugitive— okay, maybe Burn Notice is The Fugitive meets It Takes a Thief…
So, if dark artsy character studies are what you're looking for, something completely original, forget Burn Notice and get bogged down in the disappointing Boardwalk Empire.  For good clean pro-American fun—that identifies America's real enemies, past and present, on a regular basis– get stranded in Miami along with Michael Westen and the rest of the Burn Notice crew and enjoy the ride.