When I first heard there was to be a Hawaii Five-O reboot with younger actors, my first reaction was the groan of a man tired of television and movies mining his childhood to mostly lame and usually campy effect.
Not that the original Hawaii Five-O holds up incredibly well, probably ranking somewhere between Kojak and Colombo.  The Wire, it ain't.
And neither is the new series, but it is lively, witty, beautiful to look at and just plain fun.  It's like a bigger budget version of the USA Network's best (and also quite retro) shows, Burn Notice, In Plain Sight, and White Collar.
And like those shows, Hawaii Five-O is very patriotic.  It's also multicultural in the only good sense of the word.
Hawaii Five-O's default setting was exemplified in a recent show when Steve McGarrett questioned the head of a rather militant tribal group, and the man wondered why he should help a haole.   McGarrett argued that his birthright was as strong as any so-called native Hawaiian—first, he was born there, second his parents were both buried there, and thirdly, the grandfather he was named for is entombed in the USS Arizona in Pearl Harbor.
That the Pearl Harbor argument was decisive tells you where this show is coming from.
The current incarnation of Steve McGarrett is a Navy SEAL who was recruited by Hawaii's governor (Jean Smart) to investigate special crimes at her command.  The initial hook was to put McGarrett in charge of finding the arms dealer to terrorists who killed his father.
So far, Filipino radical terrorists (left wing, not Muslim) Russian agents, and the communist Chinese have shown up as either bad guys or facilitating bad guys.  The very first scene of the series takes place in South Korea where McGarrett's SEAL team has captured a terrorist, who had presumably been working with the North Koreans.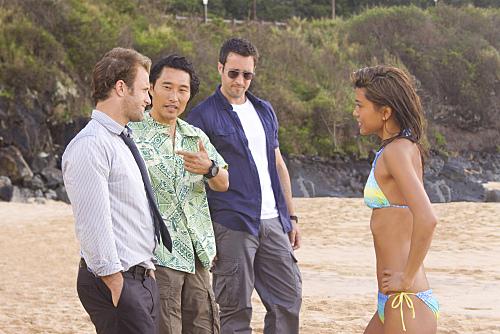 Rounding out McGarrett's team of "outsiders" for the special unit is Scott Cann as Danny Williams, who gives the series its outstanding performance as a necktie-wearing transplanted New Jersey cop who thinks islanders are all hippies or surf bums down deep:  Daniel Kae Kim of Lost (who apparently can only appear in shows that look gorgeous on hi-def TV) as Chin Ho Kelly, a cop wrongly accused of corruption and shunned by the rest of the force; and the lovely and talented Grace Park as Chin's cousin Kono, a rookie cop who is appealingly no longer restricted by Battlestar Gallactica flight suits.
2 Videos Next: Compare the original opening to the updated version
Continue reading page: 1 2