This is simply appalling! For any women still thinking that the Democratic Party is the party of women, read on…
Politico is reporting that in Hawaii's special-election scheduled for May 22, the DCCC is actively trying to defeat a Democratic woman running for an open congressional seat – State Senator Colleen Hanabusa!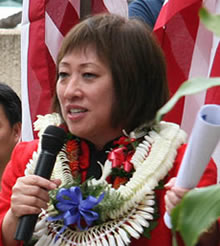 It's fact that only16.8% of our congressional seats are held by women – an abysmal figure to begin with. And chances are high that this number will go down in November 2010 since many incumbent women running are Democrats who are now especially at risk thanks to the passage of health care reform. So the DSCC trying to take out a woman candidate seems, well….odd.
It gets worse – not only is Sen Hanabusa a Democrat and a woman – she is also:
The first woman to preside over the State Senate of Hawaii;
And…
The first Asian American woman to preside over a state legislative chamber in the entire United States!!!
But, the DCCC wants to take her down and get behind Rep. Ed Case – you guessed it, a white male – we apparently don't have enough of those in Congress! The good news, Ed's got a spiffy slogan: "A Better Way Forward." "Better" because he won't be like those pesky women in congress that gave President Obama and Speaker Pelosi a tough time on health care reform!
…two sources said the DCCC is providing under-the-radar organizational support to former Rep. Ed Case against Democratic state Sen. Colleen Hanabusa, including assistance from DCCC Western Regional Political Director Adam Sullivan.

Those efforts have coincided with the circulation of opposition research within Washington advancing the notion that Hanabusa is a longtime insider who received significant legislative pay raises at a time when the state has suffered through economic hard times…
That's nice. Opposition research on the first Asian American woman to preside over a state legislative body by the DCCC. It's convenient that they've reserved the term "racist" for the Tea Party.
But it's tough towing for the DCCC. Apparently the politicians in the state like the Asian American woman more than their hand picked white man:
Several formidable obstacles still confront Democrats, however. The low-profile efforts on Case's behalf has set up a potential showdown with Hawaii's two senators, Daniel Inouye and Daniel Akaka, and a state Democratic establishment that harbors deep resentment toward Case for waging a 2006 primary bid against Akaka.
And one other minor detail – Hawaii's two most powerful unions are backing Sen Hanabusa. Not to worry: the DCCC is working on them too!
And here's a doozy, Politico also reporting that the DSCC is reaching out to Emily's List:
…EMILY's List, another Hanabusa supporter, has also been informed that that the DCCC is considering throwing its support to Case.
Now a few years back, I would have said that Emily's List would be unflappable in backing pro-choice woman running: that is their mandate – to get pro-choice, Democratic women into office. But, more recently that seems to have shifted to getting "just right, pro-choice, Democratic" women into office and following the lead of the DNC. When Ellen Malcolm thumbed her nose at Senator Blanche Lincoln over a vote all the way back in 1999 on partial-birth abortion, and I had to issue the retort that I would stand with Blanche Lincoln. Anyone giving odds on Emily's List this time?
What has become clear is that the DCCC, the Democratic Party and many of the old line women's groups who are aligned solely with the Democrats have lost sight of the goal of gender representation. We're not going to find the "right woman" for each and every one of us, each and every time. To learn more about State Senator Hanabusa you can read about her here.
If the 21st century is to be the century of gender equality, we had better get cracking!