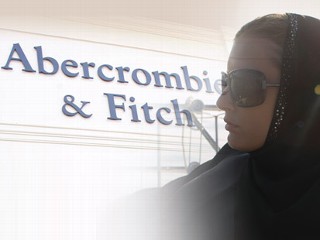 My Brooklyn-born husband has often compared radio talk-show host, Michael Savage, to the old men sitting on the stoops, eager to regale passers-by with a stream of irascible social commentary. On February 28, the New-York exile turned his attention to a Sharia flagship lawsuit filed by CAIR, (Council on American-Islamic Relations.)
A Hijab-clad Muslim, determined to promote her Islamic message of feminine chastity and to fight western sexual exploitation, applied for work in an establishment she somehow mistook for a kindred spirit, Abercrombie and Fitch.
Perhaps the Qur'anic verse enjoining females to lower their eyes in public explains how she missed the twelve-foot pictures of entwined teen flesh that routinely grace the entrances of A.&F., and blur that elusive distinction between fine art and soft porn.
The girl was hired and helped sell clothes not especially known for their concealing properties. A visiting regional supervisor tried to explain the obvious dissonance to the obtuse employee. Wearing a modesty-veil clashed with the marketing message of a store in which special promotions feature male employees strutting about without their shirts. Abercrombie found that the universal symbol of women's obligation to discourage male lust didn't enhance the ambiance emanating from everything else connected with the corporation.
Michael Savage bellowed from his stoop:
"Let's answer this question. Let's have this out. Is the Hijab freedom, or slavery? Here you have women and girls marching around in front of Abercrombie and Fitch wearing this seventh century head-dress carrying signs that say, 'Hijab is Freedom.' It is Orwellian. You tell these girls that they have to cover their bodies to protect the male ego, and then you brainwash them to thinking they are free."
A trip to any of the myriad of Islamic "outreach" websites gives this explanation for the use of Hijab:
'Why do Muslim women have to cover their heads?'

"The answer to the question is very simple – Muslim women observe HIJAB (covering the head and the body) because Allah has told them to do so.

"O Prophet, tell your wives and daughters and the believing women to draw their outer garments around them (when they go out or are among men. Qur'an 33:59)"

"Other secondary reasons include the requirement for modesty in both men and women. Both will then be evaluated for intelligence and skills instead of looks and sexuality. An Iranian school girl is quoted as saying, 'We want to stop men from treating us like sex objects, as they have always done. We want them to ignore our appearance and to be attentive to our personalities and mind. We want them to take us seriously and treat us as equals and not just chase us around for our bodies and physical looks.'

"As a chaste, modest, pure woman, she does not want her sexuality to enter into interactions with men in the smallest degree. A woman who covers herself is concealing her sexuality but allowing her femininity to be brought out."
The CAIR lawsuit, aimed at forcing the clothier to permit Muslim employees to wear Hijab, has all the trappings of a set up, given the jarring contradiction between the purported Islamic reasons for tenting their women and the girl's choice to work for one of the most sexualized franchises in the rack garment industry.
Those engaged in Jihad-by-Political-Correctness will cry, "Religious Persecution." An obnoxiously sanctimonious, "I am Woman, See Me Veil!" spokeswoman will point out that the real victims of oppression are fashionable women who wear make-up. Somewhere in Newsdom, a valley-girl Islamic convert will quip about how covering the body focuses male attention on a woman's mind and opinions. She may be able to keep a straight face long enough to assert that this explains why there is an absence of violence against women in predominantly Islamic countries.
The most significant aspect of the tale of "The Islamic Zealot Who Wants to Sell Bikinis" has, actually, nothing to do with the Abercrombie and Fitch, or CAIR. What is significant is the deafening silence of the self-proclaimed Feminist Throng. While Islamic spokesmen lie that the real motivation for Hijab is a crusade against female objectification, complicit Radical Feminists applaud their future masters. And yet, they only seem to betray the Feminist cause.
RadFems, like their colluding Islamic Misogynists are essentially revolutionaries, and the Revolution is equally promoted by Radical Feminism and Islamic Jihad. David Horowitz summarizes the cooperation between superficially opposed Revolutionary movements thus in Radical Son:
"You have to realize that the issue didn't matter. The issues were never the issues. It didn't matter what. It was the Revolution that was everything…that's why dope was good. Anything that undermined the system contributed to the Revolution and was therefore good."
Personally, I am looking forward to the next CAIR foot-soldier looking for a job at Victoria's Secret dressed in a full-body burqa…complete with gloves and a face shield.