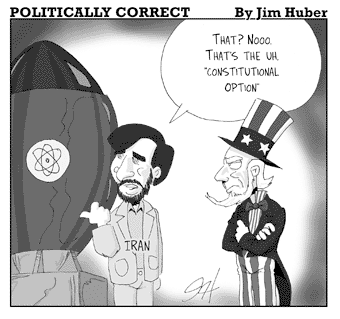 Jonathan Schanzer and Mark Dubowitz of The Foundation for the Defense of Democracies argue in the New York Post that sanctions targeting Iran's energy sector will cause the regime some very substantial pain. Material and political support for the opposition is necessary as well, but the impact of tough sanctions could cause the regime to further loose its footing and force them to decide whether to fund their own survival or their nuclear program.
The mere threat of sanctions is already causing the regime to suffer. From the article:
Last week, for example, the Italian energy company ENI announced it will soon cease business operations in Iran. Norway's Statoil suspended all new investments, and even Russia's Gazprom withdrew from a handful of projects.

The German industrial and engineering firm Siemens also announced it wouldn't enter into any new contracts with Iran — after a presence there of more than a century. Siemens' business in Iran was worth roughly $700 million in 2009. The threat of gasoline sanctions also recently persuaded BP, Reliance Industries and Glencore — all with deep, longstanding ties to Iran — to terminate direct gasoline sales.
Schanzer and Dubowitz write that many banks and insurance companies involved in Iran's gasoline imports are backing out of dealing with the country, and many more are sure to follow if sanctions are implemented.
Iran's reliance upon gasoline imports is the regime's second biggest Achilles' heel, only behind the discontent of the country's population. The Chinese are trying to come to Iran's rescue though, and make some dough while they are at it. The Chinese Sinopec firm has signed a $6.5 billion deal with the National Iranian Oil Company to build and develop refineries, reducing their dependency upon such imports. Luckily, this will take years to accomplish.
Ryan Mauro is the founder of WorldThreats.com and a regular contributor to FrontPage Magazine.