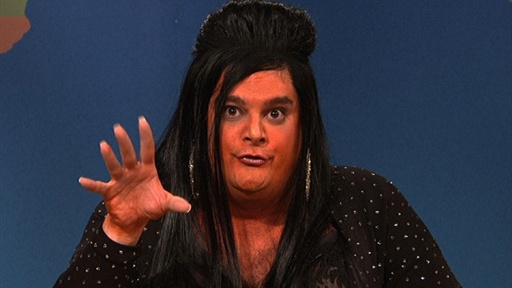 Bobby Moynihan as "Snookie" on Saturday Night Live.
You know you live in a superpower country when you can get paid $7,500 just to show up at clubs and repeat the supreme acts of scumbaggery that already are making you $10,000 an episode. That, my friends, is the life of the cast of MTV's "The Jersey Shore." And that, my friends, is the beauty of the opportunity that exists for all in America.
Early in the show, a raving madwoman named Angelina left, leaving a spot open for a new cast member—and that cast member, may I humbly suggest, should be none other than me. So to all the MTV executives who we know read NewsRealBlog religiously, think of how your ratings will explode by adding Ryan Mauro to the cast, and he'll do it for a meager $8000 an episode!
Watch the tension build as "Snookie," "The Situation," "J-WOWW," and the others are joined by "Lady RyRy" as his friends call him, showing the world what a real guido is. Follow him as he falls down when doing box jumps at the gym and dances like Carlton from The Fresh Prince of Bel-Air at the clubs, culminating in a steamy, passionate exchange of phone numbers as he tries to explain what abstinence is.
See the drama unfold as his friend Gina fulfills her pledge to hook up with one of his roommates just so she can call them on the duck phone and claim that she's pregnant. When people ask for "The Situation," marvel at how he gives an immediate geopolitical analysis encompassing all of the world's hotspots, from Juarez to Islamabad. And watch the blood get splattered when he does annoying things like asking his castmates a question in the car and then blasting the music when they try to answer!
Sounds like a hit to me.