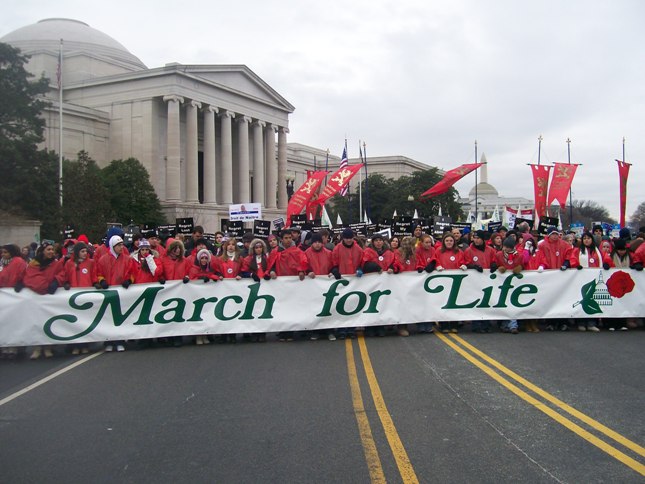 Rick Sanchez may be the most clueless man on cable news – and that's saying something.  Over on MSNBC they have mastered craziness, but Sanchez owns the market on clueless.
Last Friday was the anniversary of the controversial Roe v. Wade decision making abortion legal.  Since 1974, an organization called March for Life has hosted an annual march of pro-lifers.  Their first year they had 20k people march.  And since 1977 there have been between 100-250k marchers in Washington DC every year.  It is a massive event that is infamous for little media coverage.  Sanchez covered the event for only a minute or so, but showed his absolute ignorance for that full minute.
In 2009 I attended the March for Life and have watched it covered other years on CSPAN.  The event consists of 200k+ people (that has been the average number since 2003) standing on the mall and listening to pro-life speakers.  Afterward the people march from the mall to the Supreme Court.  Not a single pro-choice person is seen until the pro-lifers reach the Supreme Court.  At that location there are usually only a few dozen people standing with pro-choice signs.
In other words, this is a massive pro-life event with only a handful of pro-choicers trying to represent their side.  We're talking 200k compared to 30.  It isn't a day you would summarize as the two sides bringing large groups to counter march.
However, CNN starts their coverage by putting the camera on the small group of Pro-Choice supporters.  Obviously the CNN production people didn't realize that Sanchez would have no clue what he was talking about.  As he is talking they switch to an angle showing part of the massive pro-life crowd.  It appears Sanchez was just about to say there were more pro-choice supporters, so the CNN crew switched to a different angle.
"It's the 37th anniversary of the Supreme Court's decision in Roe v. Wade case….both sides being represented today, but it does appear to me, as I look at these signs that – which side is represented the most….Do we know?" – Rick Sanchez
The show goes into commercial break and then you would think the crack staff behind the camera would have googled the event to give Sanchez some information. Nope. They obviously just looked at more camera angels and realized there were more pro-lifers.  Of course, Sanchez wants to point out they didn't count them.
"As far as we can tell, following this protest on this day, the bulk of the protesters that we have seen here – that doesn't mean there aren't others, because we haven't gone out and counted them individually – seem to be anti-abortion activists. We've seen more pro-life signs than we have the others." – Rick Sanchez
You haven't "counted them individually" – really?  Instead of reporting on something only based on information you gather from camera feeds, maybe you should do some minimal amount of research.
After seeing Sanchez's coverage of the event, Steve Graydanus of the National Catholic Register responded,
"I think of myself as a pretty jaded person, but I admit to being gobsmacked by the naked disregard for truth of the media coverage of the 2010 March for Life. Shame on every so-called journalist involved."
What is CNN's response to Rick Sanchez being one of the worst cable news journalists?  They are going to give him more air time.  Just yesterday Politico reported that CNN is getting a lot of in-house criticism for its recent "decision to shave an hour off "The Situation Room" with Wolf Blitzer in favor of rising star Rick Sanchez and "Rick's List," his new two-hour show."
More time for more shoddy journalism.  Just what CNN and America needed.