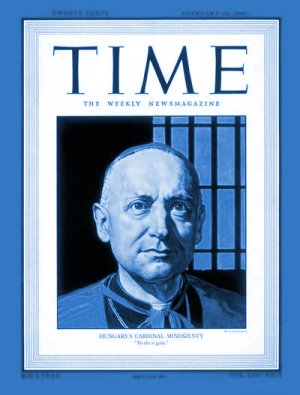 Images of Nazi or Soviet atrocities always provoke surreal astonishment, "How could people let this happen to themselves? Didn't they see the signs, hear the insane speeches? Why didn't they die fighting this?"
Watching Matt Damon's The People Speak, I ask myself, "Are we there yet?"
Will someone look back at me one day and ask, "How could she watch rising Communism on television and shuffle off to bed? Didn't she hear what they were saying?"
Damon's troubadours stirred the people to anger, to action, to Revolution, and I am thinking about putting up the family Nativity Scene and how much I hate ironing my husband's cotton shirts on Monday.
Damon's American Communists have a systematic plan. They are organized, funded, determined. What do we have?
Hours of raw Marxism were fed to America on national television. Where is our coordinated opposition? Where is the clear enunciation of our ideology, our determination to resist? Where are our freedom fighters, our leaders, our Cardinal Mindszentys?
Mindszenty? Yes, honored by Time Magazine under Whittaker Chambers, this Archbishop of Hungary thundered from his pulpit against the Communist coup before he disappeared into the torture chambers of Andrassy Street in 1948. This arch-enemy of Marxism exhorted journalists, politicians, teachers — everyone — to fight to the death against their enslavement to the Soviet Union. He suffered in prison for decades until he escaped.
The Cardinal spent the final years of his life traveling the globe, warning the world of the fate that awaited all countries unless they vigorously pushed back against the very same Marxist propaganda Damon regaled us with last night. His memoirs are the must-read blueprint for all freedom-loving Americans who do not wish to disappear in an American Andrassy Street.
Damon's Marxism offers a hate-based utopia, but no reality save that which "blesses" all countries who fall to Communism. The chorus of The People Speak, cries out for a state of equality that never materializes. All they have to give is undying hatred, because their world fundamentally violates human nature.
The People Speak engenders bitter class struggle without end and widespread oppression of everyone, including those who fought to destroy the good that they did have.
The alternative to engaging in this fight is to see the human reality of our imperfect but beloved and free American lives – Nativity Scenes along with wretched cotton shirts to iron- destroyed by idealists who promise a materialist nirvana only to instead deliver frigid gulags.