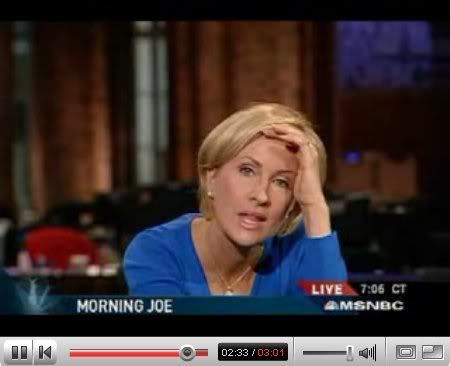 On MSNBC's "Morning Joe" yesterday, co-host and daughter of Zbigniew Brzezinski, Mika (Brzezinski) talked to NBC reporter Andrea Mitchell about the release of Sarah Palin's memoir, Going Rogue: An American Life. As one would expect from the leftists Brzezinski and Mitchell, they were hard pressed to say anything even remotely positive about the former Alaska governor.
From the very start of the segment, it was glaringly obvious for anyone with half a brain that both women had to struggle incessantly against their instinctive urge to insult Palin and to treat her with contempt. Although both succeeded in controlling themselves initially, their thin mask of journalistic objectivity slipped off at the moment when Mitchell mentioned the latest Newsweek cover – which features Palin in a sexy, Runner's World-style outfit:
Instead of condemning the obviously sexist cover, Brzezinski and Mitchell mocked her and proceeded to blame her for Senator John McCain's defeat to Obama last year, while calling her a liar. In other words, they pulled all the Alinsky-tricks out of their leftist hat.
What makes this particular cover even more interesting is that Newsweek's other cover featuring Sarah Palin was also controversial because the magazine's editors failed to treat her with due deference:
It goes without saying that this cover is quite controversial among conservatives because the leftist magazine normally uses extremely respectful photos of politicians – especially of female politicians. See for instance a Newsweek cover featuring Hillary Clinton:
Or this one:
It never ceases to amaze me that progressive 'journalists' forget all about the emancipation of women, gender equality and feminism when a conservative is the victim of sexist attacks. If Mitchell and Brzezinski cared about these issues as much as they like to pretend, they would have wiped the floor with Newsweek for using sexual stereotypes and prejudices to dismiss Palin, whose main sin it is that she is a beautiful and intelligent conservative woman, who is unwilling to sit at home, take care of the kids and cook food for her husband.