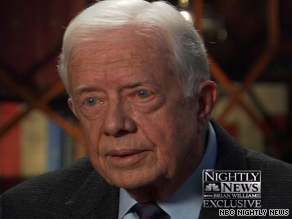 Jimmy Carter, the failed president and erstwhile peanut farmer, continues to make a fool of himself.  His latest rantings on NBC News were replayed last night on Sean Hannity's show:
"I think an overwhelming portion of the intensely demonstrated animosity toward President Barack Obama is based on the fact that he is a black man, that he's African-American.

"That racism inclination still exists, and I think it's bubbled up to the surface because of belief among many white people — not just in the South but around the country — that African-Americans are not qualified to lead this great country."
Wake up, Jimmy!  You were not qualified to lead this great country, and the last time I checked, you are white. You were voted out of office in a landslide because the American people were sick of your appeasement policies abroad and disastrous economic policies at home.
The majority of Americans voting for president in 2008 rejected a white guy and voted for an African-American. Some of them now regret the choice, not because they suddenly woke up one morning and realized that an African-American is in the White House. They regret the choice because they strongly disagree with President Obama's policies –Â Â his appeasement policies abroad and disastrous economic policies at home. Sound familiar?
Newt Gingrich had it exactly right when, commenting on Carter's idiotic statement on Hannity's show, he said that it is "destructive for America to suggest you cannot criticize the President without it being a racial act."
As the saying goes, the acorn does not fall far from the tree.  In this case, the peanut farmer helped to put ACORN Housing (the subject of the recent videos exposing its corruption) into business in the first place by signing the Community Reinvestment Act. And just like the peanut farmer, the Acorns are crying "racism" now that they have been caught counseling people on how to evade the law, commit tax fraud, and set up underage prostitution rings staffed by illegal aliens.
It is time for the peanut farmer and the ACORN hustlers to leave the public arena, for good.