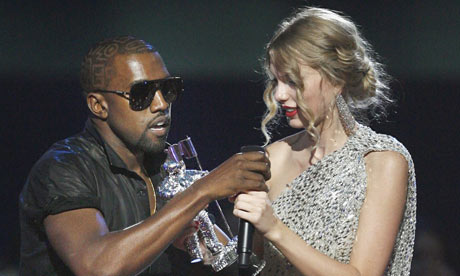 MSNBC's perpetual outrage campaign against Rep. Joe Wilson continued apace last night. In the clear-minded analysis that comes only from reading Democratic talking points, at least two of the network's hosts blamed the South Carolina Congressman for the actions of Kanye West and Serena Williams. On MSNBC's Countdown, David Shuster (filling in for Keith Olbermann) related the two events, saying, "Look at what you started. Way to go, Joe!" Rachel Maddow, surveying the same "holy mackerel" stories, claimed "Joe Wilson got the ball rolling" on uncivilized behavior. "What hath Joe Wilson wrought? The upsurge in public rudeness."
In reality, tennis players have been threatening judges for 30 years, and Kanye West has a history of publicly airing racial conspiracy theories. If he keeps it up, Valerie Jarrett may recruit him to the White House. Behavior like West's comes about because left-wingers have spent 30 years rewarding obnoxious outbursts and insane accusations, from Ward Churchill to Van Jones. At the risk of introducing some common sense, let's take a photographic Rorschach test and ask ourselves who would be more likely to encourage rude behavior:
Who is more likely to interrupt a public official? This lady:
…or this one?
Would we be more likely to hear personal epithets and coarse language if we hung out here:
or here?
Should we be more offended by this sign:
…or this one?

MSNBC can spin the rallies all it likes, but it cannot abolish common sense. Its hosts' rantings about tea party "racism" are not the Left's response to hatred; they are an example of it.