If you heard the words "older, whiter and more stupid" emanate from the mouths of MSNBC's lead hatemonger Keith Olbermann and Newsweek's leftist reporter Jonathan Alter Friday night, you might have had one of two reactions:
It was a weird bit of self-description
Move along, nothing to see here, folks, MSNBC long ago declared itself Home of the Race Card with this little bit of nonsense:
Sometimes I fear this description may also apply to me, as Keith and company are keeping me plenty busy indoors and away from sunlight lately, responding to their daily rhetorical outrages; and also because as I'm watching them, I can feel brain cells deciding the pain is too great and yelling "goodbye cruel world" by the score.
But actually, Olbermann and Alter were taking out after those who protested President Obama's nationwide speech to the nation's elementary schools. Of course, nearly every other news-talk-show host—even the liberals like Chris Matthews—mentioned the "mistake" made by the Department of Education for putting out study materials that asked kids to ponder how to "help the President achieve his goals." Not Olbermann and Alter, though. No, as far as they were concerned, there was absolutely no reason other than paranoia and ignorance to be suspicious of the Obama speech.
Hey, maybe we should just be grateful the study guide didn't call him "Dear Leader."
Here's a sample of the snarky snickering conversation that contains at least as many overreactions as were committed by the people they are mocking:
OLBERMANN: But also it's self-defeating, because if you think about this, the Democratic parents are going to tell their kids to stay in school that day and presumably they'll get this message and whatever value this is. Towards keeping them in school, there'll be more Democratic kids or kids of Democratic parent will be staying in school than getting degrees and colleges and scholarships and things, and the Republicans will be working at Burger King. It's self-defeating, isn't it?

ALTER: Well, you know, it really is. It's something that people don't quite understand is if you look at the 19 — the 2008 election returns, the Republican Party is not only becoming more regional, more of a Southern party, obviously an older white party, but also a much less well- educated party.

For the first time in many years, Democrats carried college-educated voters and of course, they've long carried graduate school-educated voters. So you can see scientists go overwhelmingly Democratic.

So they're becoming whiter, more southern and more stupid as time goes on. And I'm not sure that that helps the other party or the country.
There is actually a grain of truth to this snide little chucklefest, and maybe Olbermann and Alter actually realize it and are whistling past the graveyard.
As anyone who has done any polling the last 4 years can tell you, independent voters have been leaning nearly 2 to 1 Democrat, disillusioned with Republicans spending like, well, Democrats, and the two years of Bush making happy talk while the Iraq War was stalemated—and media mavens like Keith Olbermann have been celebrating that fact for quite some time.
But independents are shifting their preference right now to the Republican Party in massive numbers. In recent years, Independents had been expressing anti-Republican sentiments by almost a 2 to 1 margin. In any poll, unaffiliated voters tend to be 50-plus and white, middle class and blue collar, often skilled tradesmen — in other words, reasonably successful in life, but not necessarily college-educated. Ethnic voters have their allegiances fairly well set.
That means that for the last 4 years or so, the Democrat party has gotten "older and whiter." And the mainstream media has been doing a happy dance about it for the last 3 or 4 years.
Now, the Democrats aren't too happy about losing these people:
And here is how they are reacting:
I believe a certain Presidential candidate summarized them this way:
Olbermann and Alter are just following their Pied Pipers.
Later, without a trace of irony or self-awareness, Olbermann and Alter had this exchange:
OLBERMANN: Well, the conservatives also used to be conservative, go to school, listen to your teacher, shut up, respect at least the Office of the President whether you care about the President or not. What exactly is the value system they're espousing now?

ALTER: I think it's resistance to, you know, a political opponent. And a very doctrinaire, ideological approach to analyzing issues. And it works a lot of the times.

Keith, there's a hard core 20 percent, I don't think it's that much higher than that, but 20 percent of the country that listens to these programs and that takes their marching orders from clowns like, you know, Glenn and Rush.

OLBERMANN: No, well, I think actually they've hit one that I like. Stay home; keep your kids at home, conservative parents. Keep them at home and then watch them not get into college. Which is fine because they don't learn anything because they want to keep that evolution and other science and stuff like that.
Twenty percent? Only 20 percent? Whenever a host at MSNBC cracks 1% of the audience, it's "buy-a-round-for-the-crowd" time and "let's talk long-term contract." To coin a phrase, they are increasingly geared toward "serving propaganda to tin foil hatters, conspiracy theorists, paranoids and racists."
Newsweek is shedding readers like a Golden Retriever loses fur in the Spring, and making an even bigger mess. Their re-invention of the magazine is an industry joke, and let's not forget the Koran in the Gitmo toilet fiasco that led to riots throughout the Muslim world because Newsweek was so eager to slander its country, the story was too good to check.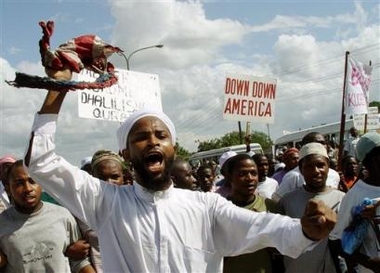 Yes, Newsweek lied, people died.
Of course, this only cemented their staff's prominent presence on MSNBC, along with writers from the Marxist rag, The Nation. But at least, The Nation admits what it is.
So, go ahead, Keith, keep up the attacks on anyone who doesn't meet your elitist standard of a worthy demographic. I can't wait to see your broadcast on November 3, 2010.
Part 3: The Hustler